Fashion
January 4, 2017
Summertime is the season in which we usually choose to dress and to make up lighter. And what does this mean in terms of outfits? It means light/pastel colors, natural fibers, fluid fabrics - all this topics contribute for us to sweat less and feel more comfortable. Dresses, for example, are such a great option for this season, once you don't need to think about a second piece of clothing, besides it is fresh.
Taylor Swift is a referency when we speak about dresses: she's always clicked wearing one. Her girly-romantic style is imprinted on her foral dresses and delicated complements. Sometimes they're colorful, sometimes they're pastel, but either way they're inspiring and fashionable. Take a look at those selected outfits of the pop singer and choose your favorite one! ;)
 EVASÉ MODELING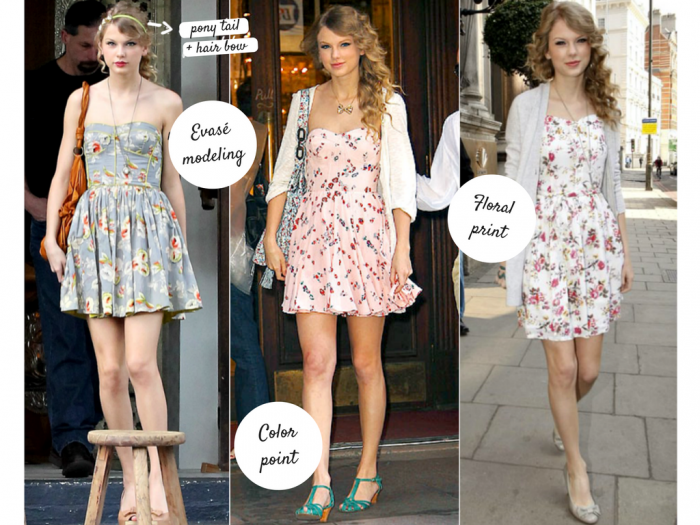 Waisted dresses always values the female silhouette, specially, if they get the "A" line on the skirt - also called "evasé modeling". Besides she's skinny, Taylor always uses this kind of dresses. If you want to be protected from weather changing, bring a cardigan sweater that matches the print of your dress and you're ready to fo. 
STYLISH ACCESSORIES
If you dress something basic on your look, you should try matching it with some stylish accessories - they're wonderful! Taylor uses, for example, vintage sunglasses (that matches floral dresses perfectly) and flat sandals in neutral color (nude or brown). 
INTERESTING DETAILS
Metallized accessories are so trendy even for the Summer, so, give them a try (not only at night, but during the day). As they're not discreet, they give pastel tones and romantical moods an extra touch. Do as Taylor Swift and try metallized shoes or purses - or even nails!
Another way of giving an interesting touch to your romantic summer dress is by wearing vibrant colors - such as the third look in the image above, in which the singer wears a yellow-and-green floral dress. So cute and luminous! If you're in doubt about which accessory match with vibrant colors, it's simple: try the neutral ones, as I've told before (like nude, brown, black and white).
PASTEL X VIBRANT COLORS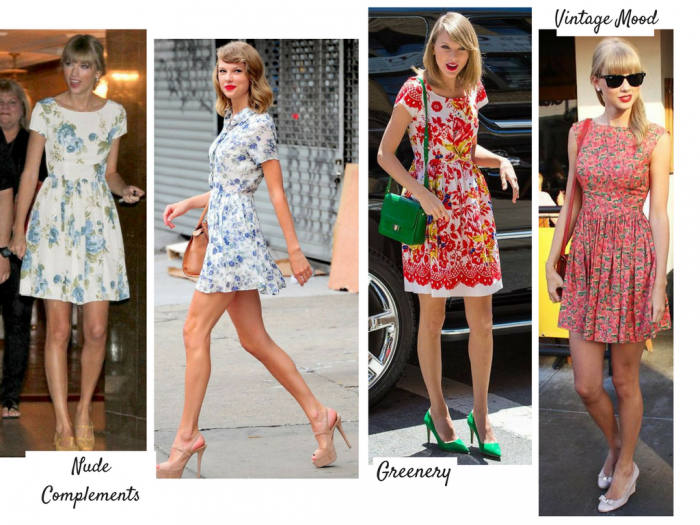 Images' credits: Pinterest.
And once we're talking about colors: here is the Greenery! Audacious and fashion, Taylor tried the 2017 tone to a red-and-yellow floral dress, far away from any monotony! The romantic mood of the dress gives a balance to the oufit. Besides this color 'explosion', it seems the pop diva loves a light color, once it appears in most of her looks. So if you share the same taste of wearing, this is the chance for you to get inspired! Delicacy might be her premise.
So now tell me: which of the outfits of Taylor Swift is your favorite? Don't forget to share this post with your friends, if you like it ;)
Xx and see you!
Marcéli
Leave your thoughts